Princess goes to the palace
A big adventure begins at the Palazzo del Vice Re in the province of Como, Italy. Stairs and cobbles can't keep a good woman down.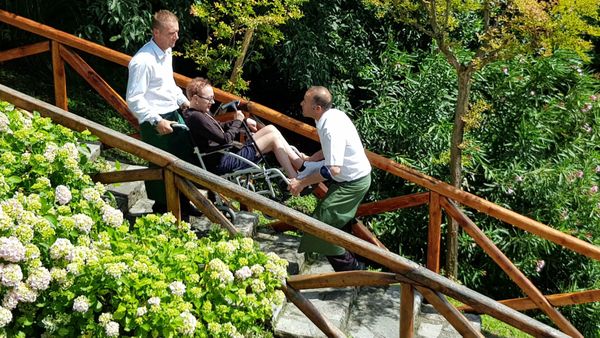 Our adventure starts at the Palazzo del Vice Re in a town called Lezzeno, which is just down the road from the more famous town of Bellagio in the Provence of Como, Italy.
The Palazzo is impressive, and that is because it was likely formerly owned by a Spanish king in the 16th century, and if so, probably used as a residence for his Italian viceroy at the time as a bit of a summer get away from the hustle and bustle of tax collecting.
While Jude and I were there, we got a glimpse into some of the total of five rooms of this boutique residence, and some were truly stunning. Awesomely renovated to blend old with new. History with present day.
Despite the grandeur glimpsed, I would describe our room as modest, being a relatively small square space with large bed, tall boy, wardrobe, minibar credenza, a small antique (ish?) writing desk with a single chair, plus an en-suite bathroom carved out of a generous corner of the room.
It was relatively austere, given the building context, and that was somewhat a surprise. Bright wall and trim colours tried to add to (distract from?) the modest essential furnishings, the colours clashing and successfully drawing your eye away from simplicity. The colour scheme seemed a reflection of this part of the world, where villas, houses and shacks form hotchpotch townscapes of orange, ochre, grey, salmon and yellow, accented with blue, standing out from the always green vegetation.
Austerity thankfully didn't extend to the tastefully hidden mod-cons like WiFi, heating, cooling, bar fridge and the hidden sound system, though, which added to the amenity without shouting "modern".
So all the right bits were in the right places, it was most comfortable, and it channelled history, but it just lacked the whole "I'm in a palazzo" excess of scale and luxe.
It was a nice space, but by comparison with the grandeur of the rest of the property, in real estate terms, our room was the worst house on the best street – sure it was great buying in a great location, but you were surrounded by reasons to feel inadequate.
We didn't care. It was our piece of the palazzo for the week, and a place to rest and refresh. Plus we especially liked that it was not too high up in this towering lift-less property, limiting the stair climbing.
On the subject of resting and refreshing, the bathroom took some getting used to.
It unsurprisingly contained the requisite double basins, toilet, bidet and wild colour scheme, but more excitingly contained a special shower. This shower had all sorts of squirting nozzles that shot from above, beside, below and front, and also had a waterfall. In typical Italian styling it was beautiful, yet lacked any obvious indication as to how to safely turn it on.
In a risqué comparison, step-mum extraordinaire Barb, who had one of these shower pods in their room, too, likened it to the Woody Allen movie Sleeper, which featured a futuristic cylindrical sex cabinet called the Orgasmatron.
Full of excitement, but bereft of instruction manual, the first time I attempted to operate it the whole bathroom was near soaked instantaneously (mental note... operate only with the screen doors closed...)
The second time was not a dry run. It was in anger. Raising Judy from her chair (she still needs a wheelchair to get around), we crossed the threshold as a couple, closed the door firmly behind with a hug, and tentatively throttled her up. Holy fuck. It was a very squirty affair, yes, yet didn't deliver at all on Woody Allen's promise. Every attempt to find a suitable squirt was greeted with an initial jet of cold water aimed most inappropriately, and caused my princess to yelp, growl, plead and eventually to bail in about 30 seconds with a "Fuck. I'm done."
"They call that thing a Jacuzzi shower."
- Steve
"It's a bloody nightmare's what it is."
- Judy
The Palazzo del Vice Re was a brilliant place to slide into living almost like a local on the shores of the magnificent Lake Como.
Aside from the Jacuzzi shower, the Palazzo and its surroundings did have a few more shortcomings as far as we were concerned, though. Ancient stairs. Cobbled lanes. Hills. And elegant boats. These would usually be considered charming, and tremendous assets and amenity, but when you approach each with a wheelchair everything changes.
Up and down the ancient stone stairs initially required ditching the wheels and carrying my princess bride-over-threshold style, though thankfully some returning strength promoted Judy to the far safer walking stick plus handrail plus me. First arrival meant learning how to just get around, but by departure we were pros. Well, that and I had well exercised muscles I never knew existed.
So wheelchairs on smooth pavement are brilliant. But on 16th century rough cobbled lane ways, not so much...
And hills were not so much a problem for princess, but far more a problem for Prince Wheezy Bits pushing...
It was daunting and I guess terrifying at times for others watching on, but both Judy and I have become accustomed lately to playing life's difficult shots as they lie, and knowing both of our limits. And plans are great, as long as they're either made up virtually on the spot, or if preconceived, changeable. There is always a way, we've found, even if sometimes that way means missing out on one experience only to be happily rewarded with another.
On that front, the boats weren't as scary as first thought.
We spent a beautiful day on the water touring the central part of Lake Como and its pretty shore-hugging villages in a Venetian style motor launch. These are like the boating equivalent of a Jaguar motor car of old, with wood and leather and a feeling of grunt under the hood that is never pushed. Its sunroof was a large sliding panel, which exposed the sumptuous leather seating and its occupants to the outside air to enjoy sunshine and sights.
The boat and experience were not the seemingly scary stuff, rather it was the getting Judy on to and off the thing, with water being unpredictably sloshy, and boats therefore unpredictably bobby. But in the end, quick and lateral thinking by our brilliant captain saw a rather ladylike sit on the edge and swivel on board manoeuvre that kept dignity, poise and bones intact.
Part of the experience was a stop at a beautiful villa at a point that thrusts into the lake. The history of this villa tells a wonderful story, plus is full of preserved artefacts that bring the stories to life. Seeing it was too hard for Judy, as there were steps everywhere. So we stayed on the boat with our captain, peacefully floating with engine off, chatting with each other, and also trying to read a booklet about the villa, which was written in Italian. (We don't know much Italian, so I made up a lot of stuff to fill in the sizeable gaps.)
While floating, we also listened to our captain chat in Italian with several other captains who were similarly floating. It was a part of the everyday, and it was a wonderful insight into how being on the water is an integral part of life for many of those who call Lake Como home, even if that integral part is just to chill out. These blokes might have as easily been gossiping in a coffee shop, or replaying football in the pub.
So a relaxing float with nothing to do became a wonderful and peaceful unexpected memory.
At the end of each day that ended back at Palazzo del Vice Re, we became increasingly glad we were staying there. Sure, a more conventional hotel in Bellagio with lift, staff and ramps everywhere would have been easier and the better choice on paper. But had we done so, we would have missed out.
We wouldn't have met the wonderful managers and staff of the palazzo, Stef & Carlynne, and the ever attentive Jagath, and the wonderful Giovanna (who makes a mean scrambled egg). Oh, and of course I can't forget Max, who is Stefano and Carlynne's gentle Golden Retriever who visited often. We'll never forget the lot of them.
It was better to put up with a few 16th century challenges and experience life. Elsewhere, we would have largely seen the same sights, but would have been robbed of the unexpected colour, challenge and people that makes an experience vibrant and remembered.