Swapping wheels for the day
Princess ditched her wheelchair today for something with the same number of wheels, but something that made a lot more noise than can come out of me while pushing her chair.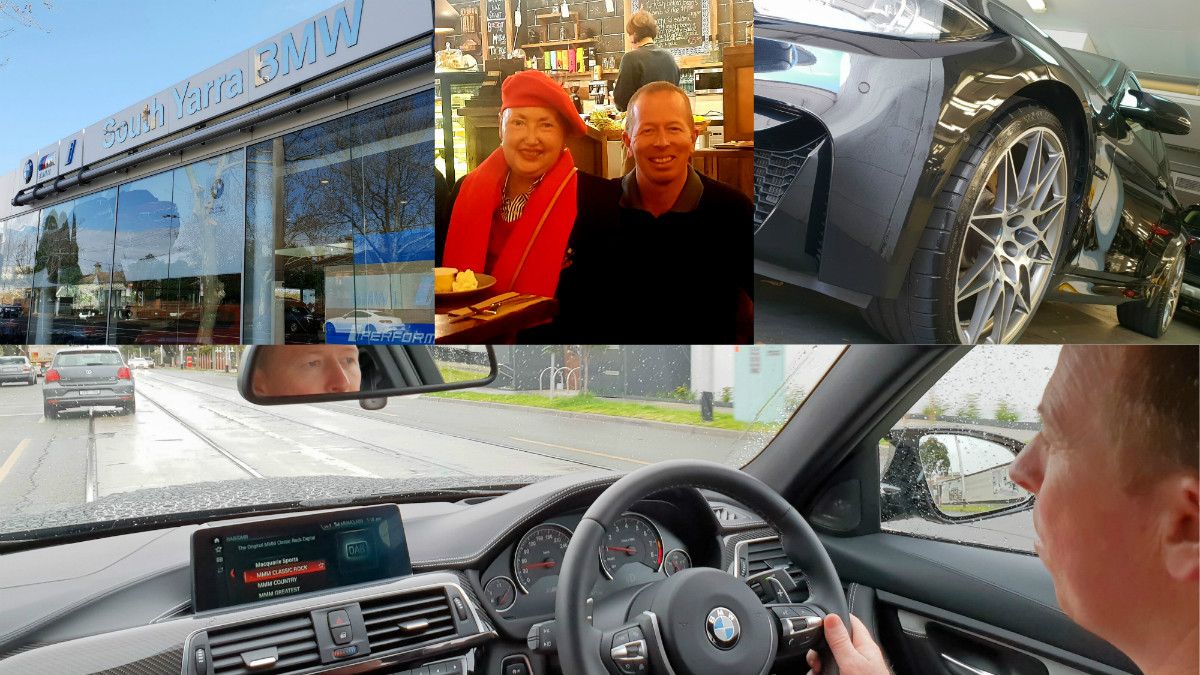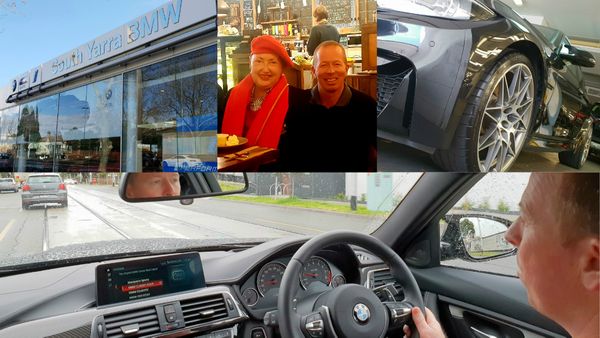 My princess ditched her wheelchair today for something with the same number of wheels, but with a lot more cylinders, and also something that made a lot more noise than can come out of me while pushing her chair.
We met Gary Watson from South Yarra BMW while having my car Boris' airbag swapped over for one that's not going to kill me with shrapnel in a crash. A good job done.
Judy and I treated the mundane safety recall as a bit of a day out, dressing her most properly, and heading out into the world for an experience, not an errand.
Some weeks earlier we had visited a Mercedes Benz dealership to hunt up a gift for super sister-in-law Gillian's birthday, and had been blown away by the service, attentiveness, and in particular, the tasty treats with coffee while a-waiting. We were just there shopping for a new jacket, not a new car, yet were still spoiled with top notch tasty treats and barista-class coffee.
The service trip on this day to BMW was viewed by Judy as a German-marque bake-off of sorts, where she could compare the quality of tasty treats of her motoring brand of preference to their competition while a-waiting again.
She's been a good BMW customer over the years, and has become a bolted-on Bavarian Motor Works fan. She hoped that their baking would not disappoint.
So while we were casually critiquing a coffee waiting for Boris' bang pillow to be replaced, Gary, South Yarra BMW's dealer principal, had casually stopped for a chit chat. He thanked us when we offered that their renovated digs were stunning, but did complain about the stairs to the upper offices being a less than good amenity.
It's fair enough he was critical about the stairs, as his wife lives day to day permanently in a wheelchair. He would be finely attuned to ambulant matters.
It was certain that a wheelchair connection got our conversation started, plus Judy was looking just fucking brilliant sat in hers, and would have drawn his eye. She sported Ralph Lauren designer garb, topped with her blue trilby hat she had acquired in Bellagio, Italy.
Job done, we headed home, feeling the wonderful noise that Boris the BMW makes.
A couple of weeks later, this wonderful bloke Gary wonderfully offered a day out in one of their nut bag motorsport cars driven by Steve Richards, a most accomplished racing car driver, who is associated with BMW. Judy can't drive herself at the moment, so who better to drive?
Steve Richards leads the BMW factory programme in the Australian GT Championship, bringing their slinky, snarling BMW M6 GT3 and M4 GT4 cars to race tracks here down under. He's the son of racing legend Jim Richards (who scored seven Bathurst 1000 titles), but with four of his own Bathurst titles under his belt, just like his dad, Richo knows a thing or two about chucking a car round a track.
We got him on a day off.
For the day, South Yarra BMW loaned Steve one of their M3 cars, to give Princess Lead Foot an experience to remember.
The car was tame by Steve's standards, but still a weapon.
Despite the weapon of choice, the experience wasn't about lighting the tyres, or smashing through some bends at speed, or feeling acceleration in your soul. It was an opportunity for a relaxed rolling chat with a humble bloke who's grateful for the successes he's had, and opportunities he's been given in life.
So he drove it like he owned it, and headed us towards the Mornington Peninsula with no fixed plan, down along Beach Road for a bloody good chat, and then a stop at a brilliant café that we found by accident in Seaford for coffee, cake and more bloody good chat.
Given our Judy's quite fragile of late, hats off to him for taking it easy, while still letting the twin turbos under foot be heard and felt.
Big thanks to Steve Richards, the great folks at South Yarra BMW, and also BMW Australia. And all the best wishes for the rest of the Australian GT series this year.
So the comparison of dealership tasty treats and cakes? There weren't any at South Yarra BMW when we were getting the airbag changed. I guess BMW are more focused on power to weight ratio than Mercedes are, wanting to keep their drivers slim.
But you know what? Mercedes couldn't hold a candle to the coffee and cake delivery system BMW used today.