Quail Burgers
Not a mid-week dish, I guess, but fun, light and original.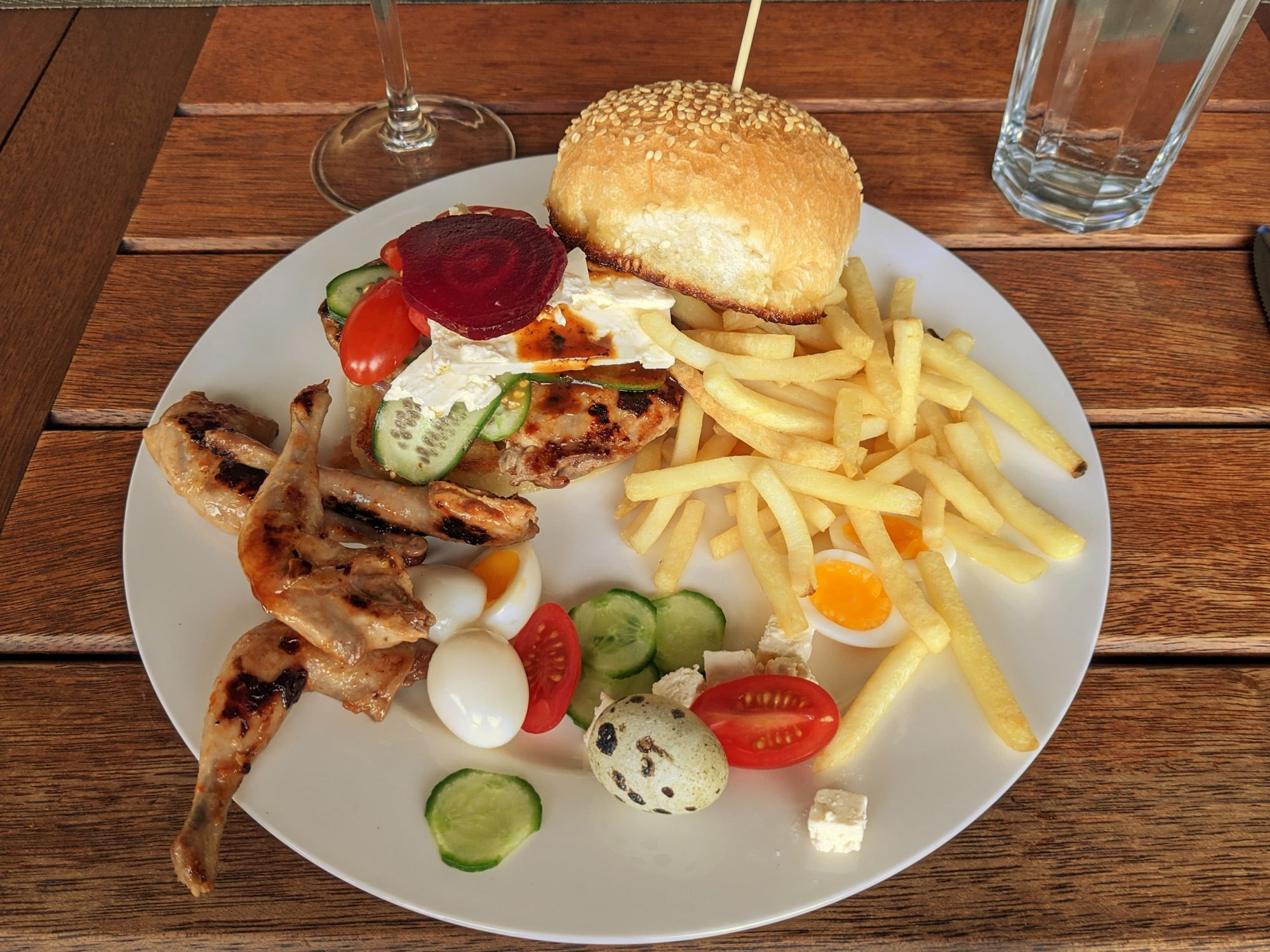 Not a mid-week dish, I guess, but fun.
For four.
4 x Short-cut bacon rashers
4 x Quail, partially de-boned
4 x Soft round white rolls, sesame seeds on top
~100g Minerva organic Fetta
12 x Cherry tomatoes
2 x Baby cucumbers
One or two baby beetroots
About two dozen quail eggs
2 tbsp Baxters Classic Tomato Chutney
A couple of garlic cloves minced (or 3cm length of pre-minced chunky garlic from a squeezy tube)
100ml Chardonnay
1 tsp plain flour
100ml chicken stock
Shoestring fries
Quail eggs
Prepare earlier. Bring a pot of water to boil, and when nearly boiling add the quail eggs for two and a half minutes. Once boiling, reduce the heat so the boil is slow. When done, quickly remove the eggs to an ice bath of water to rapidly cool. Shell most of the eggs, expecting a few failures to snack on, and leave four un-shelled for presentation. Pop them covered into the fridge.
Bacon
I love bacon. Cook first to desired state in a non-stick pan then set aside.
Quail
De-bone the quails, separate breast 'patty' from legs, toss out the wings or give them to the cat, then brush skin with Baxters chutney mixed with garlic and refrigerate for around half an hour.
To cook, start with the legs first, with the pan on moderately high heat for a couple of minutes, tossing regularly. Then turn down the heat to medium, add the breast, skin side down and cook for five minutes checking it's not burning occasionally, flip the breasts over and cook for a further minute or two. Take out the quail pieces to rest - they should still have pink medium rare meat inside, so don't over-cook them (quail ain't chicken...) Add flour to the pan, mix around for a minute or so, add Chardy to de-glaze for 30 seconds, add stock and reduce to a sauce.
Assembly
Halve the rolls and first toast the cut side of the base of the rolls in the pan with some olive oil until browned. Remove to the plates, and start toasting the top halves in more olive oil (watch they don't burn while you're busy with assembly).
Start with the bacon pieces, add the quail breast 'patty', top with super thin slices of baby cucumber, thin slices of Fetta, and slices of cherry tomato, plus some quail egg halves. Pour over the sauce. Top with a slice of baby beetroot.
Serve open, with the roll top beside, add the quail legs and a halved tomato, a few cubes of Fetta and thin slices of cucumber on the plate. And, of course, the presentation egg and shoestring fries.