Duck a l'rouge
This is one of my favourites. Duck breast is easy to cook, and brilliant as long as it's not over cooked, and is well rested.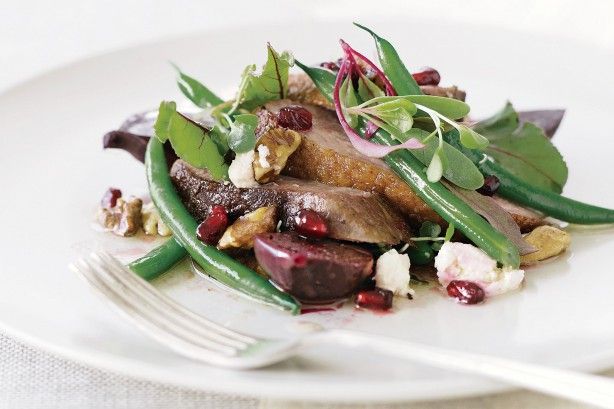 This is one of my favourites.
Serves four.
4 duck breast fillets
8 baby beetroot
1 pomegranate, halved
2 tablespoons Baxters redcurrant jelly, warmed gently
1/4 cup (60ml) extra virgin olive oil
1 tablespoon sherry vinegar
1 teaspoon Dijon mustard
100g thin green beans, blanched
1 cup micro salad leaves, chervil good, or tatsoi, or just use baby rocket if can't get micros (but rocket is a bit bitter)
150g feta, 1cm cubes
2 tablespoons chopped walnuts, toasted (7 minutes in 190 degree, spread on foil)
Beets
Cook beetroot in boiling water (or steam), for 20 minutes or until tender. Peel and quarter when cool enough to handle, then set aside. Either that, or if you can't be bothered just get some pre-cooked mini-beets from Coles. Just better. Soak in water until ready to serve.
Dressing
Half pomegranate over a juicer and smash seeds to extract juice. Place strained juice in a bowl. Other half, whack skin with blunt edge of knife to remove the seeds, and set aside for serving. Place warmed redcurrent jelly in a bowl and whisk in oil, vinegar, mustard and 2 tablespoons of the pomegranate juice. Season with salt and pepper, then set aside (½ tsp salt, ¼ pepper usually, but to taste).
Ducky
Preheat oven to 190°C. Heat an ovenproof non-stick frypan on medium heat, Swiss Diamond good for the job. When just too hot to touch add duck. Season duck and cook for 7-8 minutes, skin side down, until most of the fat has rendered and skin is crisp. Turn, cook for 30 seconds, then transfer pan to oven and cook for a further 5 minutes for medium-rare. Rest 8 minutes in the pan under foil.
Plate
Place beets, beans, leaves, feta and nuts in a bowl. Toss gently with 3 tablespoons dressing. Pile onto plates. Thinly slice duck and add on top of salad. Drizzle with remaining dressing and sprinkle with pomegranate seeds to serve.