Arraow
BMW 325i, M54B25 2.5l normally aspirated 6 cylinder convertible, 2006. Full mid-life job. Named after his number plate.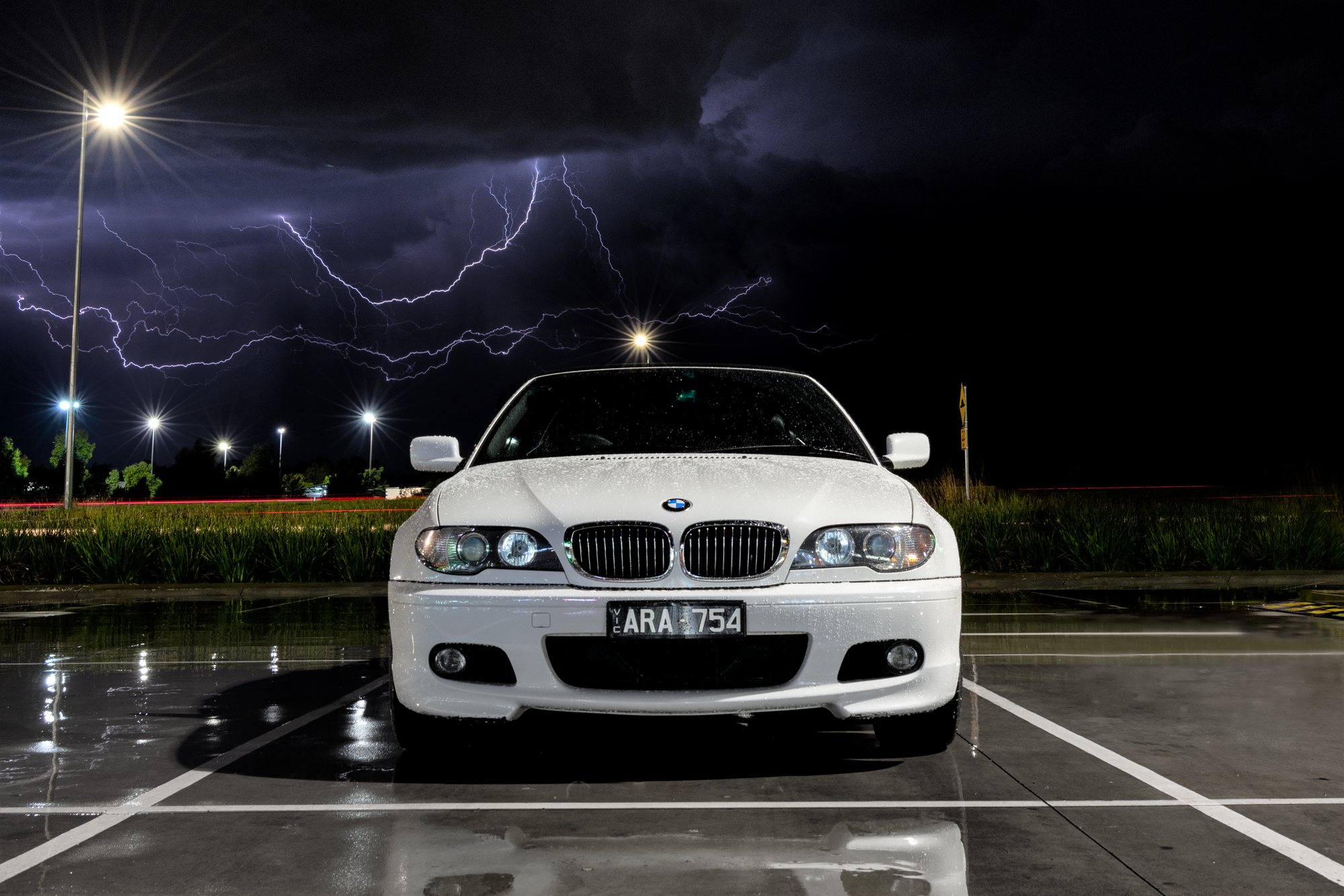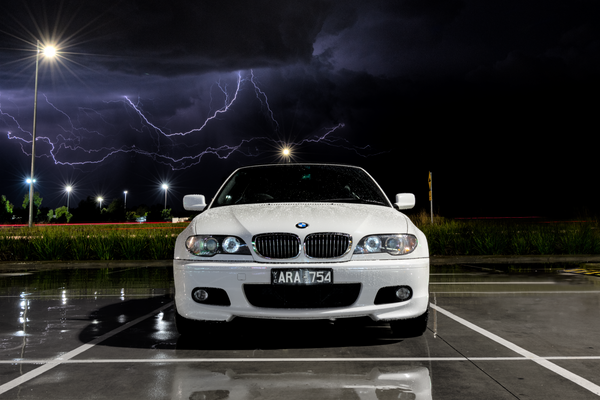 With the top down and grey (well, white) hair being dishevelled by wind, he's a full mid-life job, not a chick puller. He looks happy.
BMW 325i, M54B25 2.5l normally aspirated 6 cylinder rag-top convertible, 2006.
He's a bit special, having an order description as an E46 M-Sport Hi-Line Individual, which is a jargon-ish BMW way of saying almost no one else likely has all the same features on any other car. He's unique.
The M-Sport and Hi-Line packages means he got sporty suspension and bracing, aerodynamically refined front bumper with better brake ducting and rear diffuser, projector headlights with clear cornering lights, fog lights, interior lights package, chrome-tipped exhaust pipes, rear parking sensors, electric memory sport seats with leg bolsters, which are heated, a TV-screen radio, tyre pressure monitoring, wonderful chubby steering wheel, and a bunch of badges to tell the world (of course). His model year also gave him auto headlights, LED tail lights and rain-sensing wipers.
Advanced, even by todays standards for a fifteen year old car.
The details about his "Individual" designation is something that I'm still learning about though, as these are items that the original purchaser specifically asked to be built into the car, which are not from the standard options list. They are hard to find information about what was requested way back, even from the BMW dealerships. There should be a small scroll tucked under the rear bench seat leather somewhere detailing the build, but I can't find that.
One item that definitely doesn't come standard on this model is his gorgeously smooth leather interior, likely Nappa, unlikely Merino (because that's a rich as shit option), which is on the seats, the door cards, and armrest. Just beautiful. The standard leather, Montanna would be quite grainey, and harder, so it's definitely not that. I've owned loads of BMWs with that.
Another is the polycarbonate "wood" trim, which is super dark coloured, and I've never seen the like of it before on any other 3-series.
It's an auto transmission, strapped to 141kW and 245Nm of engine. Well, it was when it left the factory, so home horsepowers may have bolted... There are only ~120,000 km on the clock, which is super low for a 2006 that was a daily driver, so he's barely run in. Given that, the factory power numbers are probably still fairly acurate. From the service book, I suspect Arraow spent a fair bit of the last decade undriven, and hiding in someone's shed.
The model designation E46 is often called the most beautiful of all BMW 3-series cars ever made, and I agree, especially in M-sport body work, even though I own krazy Kris the 2019 F82 M4 Competition (basically a 3-series with two doors), who is super cool looking. The E46 is a contemporary design and is dating very well, being pre-Bangle era, where some BMWs started looking like they had been designed with a machete.[1] The E30 3er from the early 80s would be next in the beauty stakes, and those models are now steadily appreciating in value. Good E46s are next to appreciate I imagine.
I plan to fully restore Arraow to "as-new" over time, and love him and keep him forever, and only drive him with club plates on sunny days when I want my hair tussled.
Unless someone makes a ridiculous offer for him, that is.
His exterior is near perfect, and rag-top like new, but the interior, while in great nick, needs some attention, which will come from me given new parts are still available. There's sticky rubberised plastic (ewww), scratching, slight leather wear and scratches, and some faded trim parts. Almost nothing is broken, though. The general human grime that can come with a used car thankfully is not present. (Thanks former owner Jim. Really. I did not find even one McDonalds chip under a seat.)
Origin of name
Named after his prior number plate. He's Arraow in full, and Arra for short.
And yep. He's a boy. All peacock, despite the lack of colour, being painted Alpine White III, he makes up for it with struttin' looks. White on black interior... ooh, yeah. Very sexy. Raoww!
---
Credit for the "designed with a machete" pearler goes to industrial designer and car enthusiast Marc Newson.